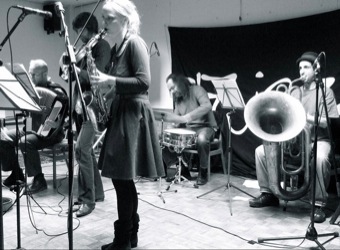 Cardboard Whale is a quintet lead by Danish composer, saxophonist, clarinetist, and flautist Julie Kjær that Matt Scott joined on accordion when it became based in London in 2010.
The lineup has included Dylan Bates violin, John Edwards double bass, Steve Watts double bass, Dominic Lash double bass, Pete Marsh double bass, Oren Marshall tuba, Steve Noble drums, Paul May drums.
Liquorice Fish is name of the sax, violin, and accordion trio playing Kjær's music.