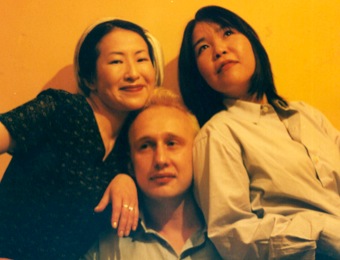 Lemon Squeezer's debut single, Aiwa Uchu Kibo (Our Love Is Greater Than The Whole Universe), was written and recorded for Japanese TV the day after a chance meeting at Club Integral.
The band has subsequently been featured at the Burst Contemporary Music Festival at Battersea Arts Centre, the Vortex, the Foundry, the Clinker Club, and the Lion & Unicorn Theatre.
Originally a trio with Yumi Hara vocals, piano, Tomoko Minamizaki vocals, choreography, artistic direction, and  Matt Scott, accordion, piano, vocals, it has also included Ricca Kawai, Kinue Kato, Chika Nakagawa, and Akiko Sato.