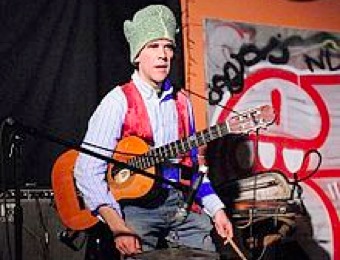 Klinker hosts regular music, poetry, film, art, and performance events. It has been held in a wide variety of different venues in and out of London, often simultaneously.
Hugh Metcalfe started the Klinker with Ian McLachlan in December 1982 at the Metropolitan on Farringdon Road in London.
After an extended hiatus it was reopened in 1997 by Metcalfe, Matt Scott, and Darren Morris at the Water Rats in Kings Cross, and together and with new volunteers they have been running it continuously since then at venues in London, in Suffolk where Hugh is now based, Bristol, Cornwall, Dusseldorf, and in 2015 Stephen Flinn and Viv Corringham opened a sister Klinker in New York City.
The approach is open without a detailed ethos or manifesto. Featured bands such as the Walter Cardew Group play composed instrumental pieces with a US folk element, other recent acts have included soundscapes with spoken words on the theme of migration and encountering racism, ECM jazz, electro-pop, a cross-dressing improvising string quartet, a feral Glaswegian bagpipe and guitar duo, horror poetry, a Finnish banjo player using loop effects pedals, and a Bollywood soundtrack composer playing graphic scores on viola.
Klinker is a multimedia venue weighted towards music that tends to feature odder leftfield acts, poets, films, comedians, performance art, dance, experimental DJs and VJs, and more.
When asked, "how would you summarise the Klinker Club", poet and music hall performer Alec Dunnachie replied, "blood rocking".